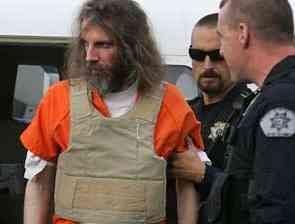 March 8 – Convicted murderer and sexual predator Joseph Duncan may not see the death penalty after all because he is now facing aggressive brain cancer.
According to our partners at The Spokesman-review, Duncan has stage 4 glioblastoma and doctors are giving him six to 12 months to live.
Doctors gave the life expectancy on November 20 which puts Duncan four months into the timeframe.
Duncan was sentenced to the death penalty in 2005. He is convicted of killing Brenda Groene, her boyfriend and her 13-year-old son inside their home near Coeur d'Alene. He kidnapped Groene's two other children Shasta, 8, and Dylan, 9.
Duncan tortured and abused the children, eventually killing Dylan.
Shasta was rescued seven weeks later when a waitress at the Coeur d'Alene Denny's recognized the little girl and Duncan inside the restaurant.